Filter by Category
Health & Fitness
Phlebotomy
with Jolene Lowery

Sep 12, 2022 at 6 pm

, runs for 16 weeks
Covers all the skills a certified Phlebotomy tech needs, including venipuncture, safety and biohazards. Prepares you for the American Medical Certification Association (AMCA) exam. Skill labs include a minimum of 40 live draws. Most will be conducted with volunteers during class, but ICTC will also schedule you for 8 hours of clinical time in area hospital labs and medical facilities. If you currently work at a healthcare facility, you may also complete live draws on the job at your employer's facility. For the AMCA certification exam, ICTC charges a $25 exam proctor fee, which is included. AMCA will charge $109 for the national certification exam, which you will pay directly to AMCA and isn't included in the cost listed here. You will receive study guides, a practice app and more. To request an application, email mike.meigs@ictech.edu. This 16-week class will be out the week of Nov. 21 for Thanksgiving break and will complete in January 2023 after the winter break. For the theory modules, you can join the instructor face-to-face at the Tahlequah campus or you can join virtually from home or your local campus. If you want to join virtually but don't have a laptop and webcam, ICTC may be able to loan you a Chromebook. Email mike.meigs@ictech.edu, and he'll set you up or direct you to your local Adult Career Development office. You can either check out a Chromebook or use one of their computer labs. All skills days must be attended in person at the Tahlequah campus.
Full Course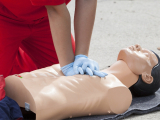 CPR for Healthcare Providers-American Heart Association
with Brenda Smith

Dec 10, 2022 at 8 am

, runs for 1 week
Covers adult, infant and child CPR and AED. Includes written and performance exams. Cost includes CPR e-card. The e-card will be emailed to you, so please provide a working email that you check regularly. Always remember to check your junk and spam folders as well.
Will run